ECONOMY
Union Budget sticks to fiscal prudence, showers sops on new I-T regime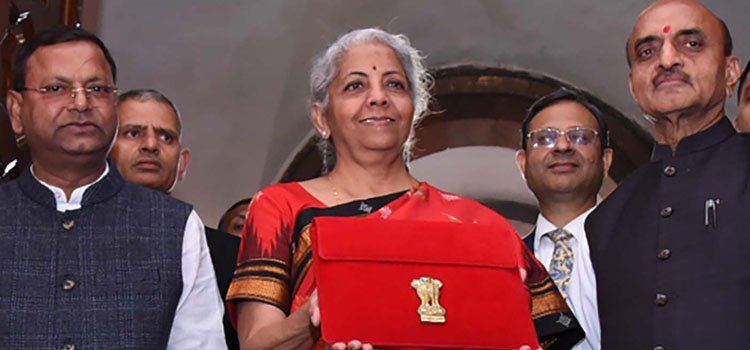 Finance Minister Nirmala Sitharaman presented the Union Budget 2023-24 in the Parliament on Wednesday, the NDA government's last full Union Budget before the country heads into general election next year. The finance minister steered clear of populist measures and stuck to fiscal consolidation.
Total receipts other than borrowings and total expenditure for the next financial year are estimated at Rs 27.2 lakh crore and Rs 45 lakh crore respectively. The net tax receipts are estimated at Rs 23.3 lakh crore.
Aiming to reach a fiscal deficit level below 4.5 per cent of the GDP by 2025-26, Ms Sitharaman pegged the fiscal deficit for 2023-24 at 5.9 per cent, well below the 6.4 per cent budgeted for 2022-23. Fiscal deficit for 2021-22 was 6.7 per cent, lower than 6.9 per cent in the revised Budget estimates.
The finance minister proposed net market borrowings from dated securities at Rs 11.8 lakh crore for FY24 to finance the fiscal deficit, estimated at Rs 17.9 lakh crore. Gross market borrowings are estimated at Rs 15.4 lakh crore. The remaining balance of funding the fiscal deficit is expected to come from small savings and other sources.
The Union Budget proposed a slew of changes to Income Tax (I-T) and made new tax regime the default option. Among other measures, Ms Sitharaman proposed to reduce the highest Income Tax surcharge rate from 37 to 25 per cent in the new tax regime. This is expected to result in reduction of the maximum tax rate to 39 per cent.
The government also set Rs 10 lakh crore of capital investment target for the next financial year, a steep hike of 33 per cent for the third year in a row. The capital expenditure (capex) is aimed at enhancing growth potential and job creation, crowd in private investments and provide a cushion against global headwinds.