ECONOMY
Prime Minister Narendra Modi appeals to States to be "financially prudent"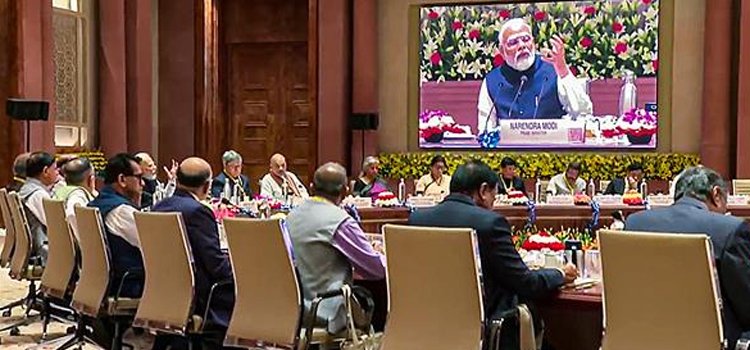 Prime Minister Narendra Modi urged States to take "financially-prudent decisions" as top Central and State leaders gathered in New Delhi on Saturday for the eighth meeting of the Governing Council of NITI Aayog.
When asked whether Mr Modi talked of freebies and the Old Pension Scheme – issues that have come to the fore amid elections in several States – B V R Subrahmanyam, the chief executive officer of NITI Aayog, said that the prime minister had "hinted" at them.
"The PM gave an over-arching view – he didn't discuss a particular item, but he hinted at it. He basically said fiscal prudence is essential because you do not want to over-burden future generations… So, keep that in mind in whatever you do," Mr Subrahmanyam told reporters at the conclusion of the meeting.
The latest meeting of the Governing Council of the prime minister-led NITI Aayog was given a miss by as many as 11 Chief Ministers for various reasons.
Aam Aadmi Party's Arvind Kejriwal, for instance, skipped the meeting in protest against the Centre's decision to pass an Ordinance that overturned the Supreme Court's order on control over services in the national capital.
The others who did not attend the Governing Council meeting included Bihar CM Nitish Kumar, who said that he had requested a change in the time of the meeting so that he could attend a function marking the death anniversary of former PM Jawaharlal Nehru.
As many as eight items were on the agenda for the Governing Council's meeting: focus on making India a developed nation by 2047; thrust on micro, small and medium enterprises; infrastructure and investments; minimising compliances; empowering women; health and nutrition; skill development; and GatiShakti for area development and social infrastructure.