TRAVEL
"AlUla Is A Heritage & Cultural Destination": Melanie DeSouza, Executive Director (Destination Marketing), Royal Commission for AlUla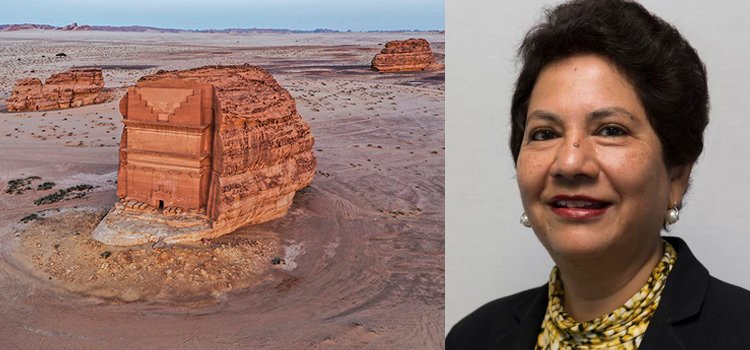 Melanie DeSouza is Executive Director (Destination Marketing) of the Royal Commission for AlUla. She leads a team of specialists to develop the brand, digital assets, trade, consumer marketing and public relations and launch AlUla – a unique and ancient heritage tourism site in Saudi Arabia – to the world.
A marketing leader with an outstanding track record of achievement in tourism and hospitality industries in Australia and Asia, Ms DeSouza was associated with Visit Victoria – the marketing agency for the Australian State of Victoria – until January 2019. In an insightful interview with Sharmila Chand, Ms DeSouza talks about AlUla, various attractions at the ancient site and wide-ranging facilities it has to offer.
Would you throw some light on AlUla?
AlUla is at its core a heritage and cultural destination. It is a unique place, which is a part of the ancient, incense-trading route, and home to 200,000 years of human history. Five civilisations have declared AlUla their home for the last 7,000 years. The heritage site is related to unique civilisations of many northern Arabic kingdoms, specifically Dadan and the Lyhanite kingdoms. Besides, Petra is associated with the Nabataean kingdom, and we have one of the most significant sites of Hegra, which still has over 100 beautifully-preserved tombs. Hegra was, of course, a civilisation well known for welcoming traders' caravans that passed through it. We are positioning AlUla as a boutique heritage and cultural destination. But for travellers who want more than heritage, we have all in place.
Besides heritage, what are other attractions that AlUla offers to tourists?
The old town of AlUla is a majestic area that has opened recently for visitors. We have some amazing adventure activities, and knowing my Indian brethren, they would love everything from the double zipline to the dune buggies to being able to have hikes – not necessarily always for the adventurous and the most fit but also very pleasant hikes taken around natural landscape and environment to hear more about civilisations from the ancient millennia that call the place home. We also have the most brilliant night sky. So, if you think about star gazing – and the fact that in the distant past stars were the key indicators for navigation around the world – the story-telling around that is what I would highly recommend.
In times of COVID, where people have been indoors, this is a destination that represents nature at its absolute best. Rocky outcrops, juxtaposed with beautiful palm trees and oases, are a spectacular part of nature against which we have a myriad of adventure options, such as horse rides and cycling tracks, including the just-launched bump-and-pump track. Then there are a variety of options for food and accommodation too.
Kindly elaborate on the food and accommodation options available for discerning tourists.
We have Barzan, which offers local varieties of cuisine with strong vegetarian options. We have some signature restaurants coming on stream in 2021, with the opening of the Jason Atherton, a three-star Michelin restaurant on top of Maraya. Everything from food trucks that offer you a burger right through a Michelin star restaurant, AlUla has a good gamut of food options. Interestingly, there are a lot of options for vegetarians. As an Indian, I can tell you that so many of the dishes here use okra or eggplant. There is so much of commonality in the Indian and Arabian cuisines.
A similar, wide-ranging variety can be expected on the accommodation front. We are opening Habitats in July, which is a beautiful, new, hotel brand operating in Tulum and Nicaragua. We have three Aman Resorts opening in 2023 and Banyan Tree opening in October. Besides, for those looking at moderately-priced options, we have Sahary, which has a spectacular valley surrounded by beautiful outcrops. For adventurous tourists, there are road vehicles that are fully equipped with kitchen and bathroom. There are a wonderful alternative for people to step out of their vehicle and get into the great outdoors.
How is AlUla gearing up to welcome visitors after the viral pandemic?
We formally opened the doors as a year-round destination in October 2020. At the moment, borders are closed, and we look forward to welcoming Indian tourists when the time is right. Last year, Saudi Tourism, which is are our great partner, together with the Saudi Arabian government introduced the very easy e-visa to many markets. Once borders open, any Indian with a valid UK, USA and Schengen visa is eligible for a visa on arrival, if they fly on a Saudi national carrier. The others can apply at the Saudi embassy or consulate for a tourist visa. The Saudi Tourism Authority is currently working on having an e-visa facility for Indians which would make it much easier for travelling to the Kingdom of Saudi Arabia.
How to reach AlUla from India?
There is good connectivity from India to Saudi Arabia. Pre-COVID, a lot of south Indian airports, like Hyderabad and Bengaluru, were directly connected to Riyadh, Jeddah and Dammam. From Riyadh, you can reach AlUla in a little over an hour. If you take a direct flight to Medina, you can reach AlUla in three hours. Connectivity is not an issue as both Saudia and Air India have many direct services to Saudia gateways.
What is the best time to visit AlUla?
September to April is the best time to be in AlUla. The best time for Europeans, who crave for the sun, is July to August.
Where is AlUla placed in Saudi Arabian tourism?
The one thing I learnt living in Saudi Arabia is that it's a very warm and friendly country, and I have been amazed at the level of hospitality that I have already enjoyed and a degree to which there is pride among locals to actually be able to showcase their land and heritage. We are the first of Saudi Arabia's mega projects in leading up to 2030, where tourism will take the centerstage in this country, and we are the first to be opened. Very soon, there will be more destinations along the Red Sea that are pristine and offer a range of water-based options that people will be able to combine us with. Besides, Jeddah, with its wonderful and historic architecture and Souqs, is a lovely balance with AlUla, the priced jewel in the crown of Saudi Arabia.
Is there anything that this ancient heritage site has to offer modern, business tourists?
Maraya, which is our conference venue, is the largest, mirrored building in the world. We are looking at business tourism from India. The MICE (Meetings, Incentives, Conferences and Exhibitions) market will look to AlUla as a new venue for smaller conferences, meetings, incentives and also weddings, because it is a spectacular venue. I extend a very warm welcome to our Indian tourists. We are looking forward to seeing you in AlUla.