MANAGEMENT MANTRA
MANAGEMENT MANTRA - "Keep Innovating": Kishore Indukuri, Managing Director, Sid's Farm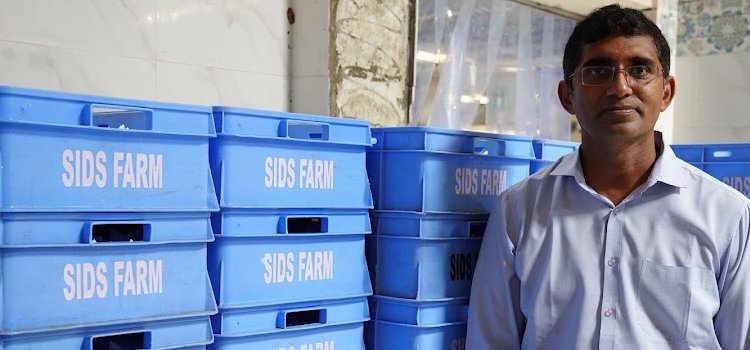 One fine day, an IIT graduate with a plush job at Intel quit it to start a farm in India. The farmer in him pushed the IT engineer to go back to his roots. The entrepreneur in him nudged him to excel and innovate to the best possible extent. Meet Kishore Indukuri – the IT engineer, farmer and entrepreneur – the founder and managing director of Sid's Farm, a premium dairy brand based out of Hyderabad, Telangana.
An alumnus of IIT Kharagpur, Mr Indukuri also has a master's degree and PhD in polymer science, apart from an engineering degree from University of Massachusetts, US. After his higher studies, he stayed on in the US for some time and worked in diverse sectors, such as at a wind turbine project in Seattle and a solar power project in Arizona. It was during his six-year stint at Intel Corporation that he decided to return home to Hyderabad and became an entrepreneur with Sid's Farm.
Seeing huge opportunity in the business of pure and unadulterated milk, Mr Indukuri opened the dairy farm with a herd of 20 cows and buffaloes. Sid's Farm began supplying milk directly to customers in Hyderabad. With a largely positive response from consumers, the brand soon grew manifold.
Today, the dairy farm has grown across over 2.5 acres, with a 4,000-sq ft milk-processing facility in addition to a model dairy farm in another 1.5 acres. Currently, the company serves more than 20,000 customers daily on a subscription basis.
Sharmila Chand meets up with the engineer-turned-entrepreneur and is amazed by his grit and determination in building a big dairy brand. She also probes further to understand his business strategies, management principles and practices that have brought him huge success.
What are the five management mantras according to you?
1. Understand the strengths of your team, work with them, and build them as you work on yourself.
2. Continuously innovate, however small your resources are.
3. Inculcate a strong sense of purpose in your entire team.
4. Develop clarity and intuition.
5. As you grow, keep working on improving your efficiencies.
Do you play any game that helps you in your work?
I usually spend 20 to 30 minutes meditating in the morning. It helps me maintain balance and focus through the day. I have run a few half marathons previously but have not done any in recent years.
Would you share with us the turning point in your life related to your career?
I did my higher studies in the US and then worked at Intel Corporation in the US for about six years before starting Sid's Farm. My journey with Sid's Farm is my turning point. It has pushed me to my limits and continues to do it. The larger purpose (of producing great food and providing it to our customers) that Sid's Farm provides me, motivates me to work hard, learn continuously, and keep on moving.
What is the secret of your success?
I still have miles to go before I can consider myself to be successful.
What is your philosophy of work?
I always believe in just keeping my head down and continue executing my plan.
Is there any particular person you admire who has inspired you?
I am indebted to many gurus, including my parents who have taught me and inspired me. Sadhguru/Isha Foundation is one I am particularly inspired by. The amount of impact and the work Sadhguru has been able to accomplish are unbelievable. In my earlier years, a famous quote by Swami Vivekanandaji lit a fire within me that nothing has thankfully been put out till now. The quote goes thus: "Take up one idea. Make that one idea your life; dream of it; think of it; live on that idea. Let the brain, the body, muscles, nerves, every part of your body be full of that idea and just leave every other idea alone. This is the way to success."
What is the best advice that you have got?
Prioritise the most important stuff, and say no to everything else.
Who is your sounding board?
My wife Hima, my brother Kiran, my super team @ Sid's Farm, advisers Naidu & Ram, our investors and beloved friends all provide me much-needed advice and support.
Would you share with us your favourite books?
I have a long list of favourite books. I have recently read Delivering Happiness by Tony Hsieh and loved it. I am reading The Miracle Morning currently. I primarily enjoy reading non-fiction and like authors who have written about their personal experiences of building great companies and organisations. I also read books on Indian spirituality/mysticism and have strong interest in studying our ancient scriptures.
What is your fitness regime?
I am still working on developing one. My work keeps me on the go all the time. Thankfully, this venture has made me somewhat of the farmer I wanted to be, and I get enough hands-on activity on our farm almost regularly.
What are the five business mantras for success according to you?
1. No matter what comes at you, keep on executing and tweaking the business model as needed patiently. Institutions and rock-solid organisations take time to build.
2. Keep innovating. Intel's Andy Grove once famously said: "Only the paranoid survive." Unless you innovate and stay on top, you perish.
3. Keep tracking larger trends in the overall industry or space you operate in. Your industry could be fundamentally disrupted in the next few years, if you do not track the larger signals.
4. Keep your ego low, and be kind to your team. Team is the one that delivers results for your organisation. Work on developing them understanding their strengths and weaknesses.
5. Continuously deliver on the quality you promise to your customers. It takes work to build rock-solid systems and processes to deliver consistently over years and decades.
What message on management would you like to give to youngsters?
You can develop your own style as you go. Having a strong purpose about why you are doing what you are doing will help your team rally around you. Keep your ego low, be kind to them, and they will take upon the purpose you have laid out and take it forward.
How would you define yourself in one sentence?
I am a soft-spoken guy with a strong will to do whatever it takes.