INTERVIEW
FACE TO FACE - "We Will Open 100 Hotels by 2030": S P JAIN, CMD, Pride Hotels Group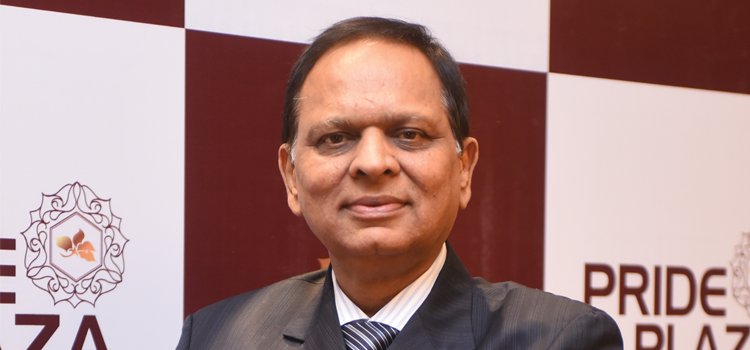 Pride Hotels started way back in 1988 with a single property in Pune. Over the past three decades, the Mumbai-headquartered hospitality company has grown manifold with presence in 56 locations across the country. Pride Hotels operates under four distinct brands – Pride Plaza, Pride Hotel, Pride Resorts and Pride Biznotel.
The rapid growth of Pride Hotels can be traced to its mixed model of own properties (where Pride owns the property) as well as managed properties (where Pride manages the property on behalf of a hotel owner). Pride Hotels Group Chairman and Managing Director S P Jain pushed ahead this mixed model and steered the company to higher growth. Mr Jain, a chartered accountant by training, has put the hospitality company on a fast-growth track with a greater stress on the asset-light model of managed properties in recent years.
In a wide-ranging interview with our Editor Amit Brahmabhatt, industry veteran Mr Jain – a former president of the Hotel and Restaurant Association and former vice-president of the Federation of Hotel and Restaurant Associations of India – shares his views on the Indian hospitality industry and his hospitality company.

How is the Indian hospitality industry emerging out of the shadows of COVID-19?
The Indian hospitality industry has made significant strides in recovering from the impact of COVID-19 and is now witnessing significant growth. There has been an increase in demand in room occupancy, driven by an increase in average room rate, while the revenue per available room too has shown growth in the last year. We now observe that behaviour of customers has quite changed after COVID. There is a substantial increase in demand for tourist places, religious places and weddings and social events.

What new trends are visible across the landscape of the Indian hospitality industry?
Post-pandemic, since the industry is in a recovery mode, there is good potential in destination cities as these are the emerging markets. Religious tourism too has seen an uptick as people from India and across the world have been visiting various pilgrim locations nationally. We have recently launched our properties in pilgrimage centres like Ranakpur, Rishikesh and Rudraprayag, among others to meet the changing interests of travelers. There has also been an increase in demand for personalised experiences and distinctive customised journeys. Besides, the importance of sustainability and eco-friendly practices has increased.

What impact do aggregators and artificial intelligence (AI) have on the domestic hospitality sector?
The domestic hospitality sector has seen a radical transformation, thanks to aggregators and AI. Travellers now search and book hotels more easily because of aggregators who support internet booking systems. This has increased client accessibility and broadened the reach of hotels. AI has made it possible for hotels to improve customers' experiences by personalising advice and streamlining procedures. The industry's productivity and customers' happiness have both risen because of these innovations. We can witness this through adventure-loving, young generation of tourists responding to our newly-launched locations like Haldwani, Sasan Gir and Digha, among others.

What are the key segments driving growth of the industry?
Business travel, staycations, weddings, personal celebrations and various other social events, along with the meetings, incentives, conferences and exhibitions (MICE) sector, are the primary sources of growth for the industry. Each market segment has a set of unique demands, which present different opportunities for hotels to meet their customers' specific preferences and requirements.

How are Indian hotels coping with manpower and talent shortage, which is a major challenge for the sector?
One of the biggest challenges the hospitality industry is currently dealing with is a lack of talented and adequate staff. Indian hotels are tackling this issue in a number of ways. To address this issue, Pride Hotels Group has repackaged and introduced the DREAM (Determined Redefined Excellence For Aspiring Manager) programme. This initiative aims to provide opportunities for students to join the MT/HOT (Management Trainee/Hospitality & Tourism) programme. The DREAM programme provides a comprehensive understanding of theories and processes involved in an individual's development in the hotel industry. It also pledges career progression from MT/HOT positions to GM/EAM (General Manager/Executive Assistant Manager) positions respectively in a defined timeline. One of the key highlights of the programme is that it provides mentoring opportunities from the Pride Hotels Group's leadership team, general managers, corporate head of departments and other senior managers. Upon successful completion of the programme, aspirants have the option to choose between assistant manager and executive positions, enabling them to kick-start their careers in the hotel industry. This programme not only addresses the manpower and talent shortage in Indian hotels but also provides a structured and supportive environment for aspiring students to develop their skills and knowledge. We are thereby investing in the professional growth and development of students and actively contributing to the sector's efforts to overcome this challenge.

How do you see the prospects for hotel companies in the near future?
The outlook for hotel businesses in the foreseeable future appears positive. India can anticipate an increase in foreign tourism as a result of the estimated rise in occupancy rates across the country and the country's G-20 presidency. The national strategy for the MICE business, unveiled by the Ministry of Tourism, appears to hold promise for turning that interest into an opportunity. To make the most of emerging opportunities, adaptability, innovation and a customer-centric focus will be essential.

Infrastructure status still eludes the hospitality sector. How is this issue affecting the industry?
The absence of infrastructure status for the hospitality sector has long been a problem for the business. Without infrastructure status, hotels struggle to access long-term, affordable financing as well as tax breaks and other incentives available to sectors with the infrastructure status. This makes it harder for hotels to grow and expand their operations and restricts their ability to compete on a global scale.
Would you shed light on the developments happening at Pride Hotels since the end of the pandemic?
Pride Hotels has made a number of modifications since the pandemic ended in order to accommodate the shift. To guarantee the health and safety of our visitors and employees, we have enhanced the health and safety measures at each of our locations. Our priority has been to offer personalised experiences, invest in sustainable practices and use new technology to improve guests' experiences. Additionally, we have added new properties in strategic locations to our portfolio across India and pursued partnerships to improve our services. We are proud to be located in 56 beautiful destinations across the country. In the post-pandemic period, our goal has been to ensure employees' satisfaction even as we consistently innovate, enhance our services and offer our guests extraordinary hospitality experiences.
Would you share with us the expansion plan unfolding at your end?
People have taken pride in partnering with us because we are a truly Indian brand. Pride Hotels Group has a very ambitious plan. Currently, we have 56 hotels across the country in 15 States with a total of 5,319 rooms, over 72 restaurants and 152 banquet and conference halls. We are targeting to open 100 hotels by 2030. We have achieved a consolidated turnover of Rs 300 crore and expect it to cross Rs 500 crore in a couple of years.