STATES
Yogi Adityanath's new Uttar Pradesh: India's Economic Powerhouse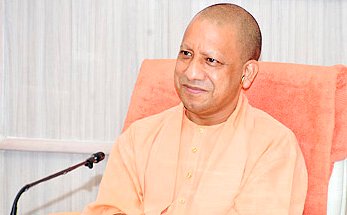 Uttar Pradesh (UP) seems to be swaying in joy as the refreshing breeze of development blows across the heart of Hindi heartland. Almost every nook and corner of UP appears to feel the winds of change. The Yogi Adityanath government just completed its four years in power this March.

In March 2017, the country's largest State voted the Bharatiya Janata Party (BJP) government to power with a thumping majority. The northern Indian State voted hands down for the BJP, which was contesting the polls on the development plank in the summer of 2017.
Four years down the line, Chief Minister Yogi Adityanath, who is also the head priest of the venerable Gorakhnath Mutt, has helmed a splendid transformation that is visible all across UP. In fact, even the strongest critics of the saffron robe-clad chief minister cannot deny him the credit of changing the face of UP.
Whether it is organising the largest-ever Kumbh Mela successfully or tackling the COVID-19 crisis, the UP chief minister has shown his astute administrative skills. This has won him praise in both national and international forums, including the World Health Organisation. On the other hand, the State government's initiatives to transform Uttar Pradesh into an ideal business destination and vibrant, investor-friendly economy are hard to miss.
In the past four years, the UP government has initiated and successfully accomplished several projects - such as Global Investors' Summit, followed by two ground-breaking ceremonies; innovative, One District, One Product (ODOP) scheme; hosting of Defence Expo; and kick-starting infrastructure projects, like one of the two defence corridors of the country; Jewar International Airport - among the world's largest airports - mega Film City; and expressways crisscrossing the State.
Incidentally, UP's big jump to the second position in the latest Ease of Doing Business (EoDB) ranking, becoming the second-largest State in the country with Gross State Domestic Product (GSDP) of Rs 21.73 lakh crore and emerging fifth-largest exporter among all the States stand testimony to the State's achievements and commitment for a new Uttar Pradesh which means business. Meanwhile, the State Budget has also grown at CAGR of more than 10 per cent year-on-year from Rs 3,40,000 crore in 2016-17 to a whopping Rs 5,50,270 crore for the financial year 2021-22, the highest among all the States. The improved Budget has ensured that development projects do not languish due to a lack of funds.
UP means business
Behind these stellar achievements lie relentless efforts of the young and dynamic, go-getter chief minister. Immediately after taking over the reins of the State, Mr Adityanath turned his focus on laying a firm foundation for the State's economic growth based on infrastructure development and investment promotion.
The government came out with the proactive Industrial Investment and Employment Promotion Policy of Uttar Pradesh, 2017 to facilitate smooth flow of investments in the State. Subsequently, it also came out with about 20 other sector-specific policies, such as those for civil aviation, IT and start-ups, electronics manufacturing, agro- and food processing, solar energy, MSME, handloom, textile, film, tourism, warehousing and logistics, defence and aerospace, among others. Various attractive incentives provided by these policies, like land subsidy, capital subsidy and interest subsidy, among others, are benchmarked as the best in the country.

With business-friendly policies and measures in place, the Adityanath government organised its first-ever Global Investors' Summit, 2018 in State capital Lucknow in February 2018. The mega corporate jamboree succeeded in garnering investment intents worth more than Rs 4,28,000 crore. UP had not seen this kind of vibrancy and attention from the national as well as the international business world.


To make sure that the intents did not just remain on paper, the State administration vigorously followed up with the companies and helped them to move forward with their projects at a brisk speed. This hand-holding resulted in whopping over Rs 2,00,000 crore of investments fructifying and promising a multiplying effect on employment creation. Of this, 211 projects worth Rs 50,756 crore have already commenced production creating nearly 1,27,000 employment, while 122 projects worth Rs 35,863 crore are under implementation with potential employment of 2,05,000. The remaining 457 projects worth Rs 1,02,924 crore likely to be initiated soon.


Besides, UP has attracted investments worth over Rs 11,000 crore under its various policies through Pradeshiya Industrial and Investment Development Corporation of Uttar Pradesh (PICUP) . Similarly, under the Post-COVID-19 Accelerated Investment Promotion Policy, 2020, which was a one-year scheme, investment applications worth Rs 1,400 crore with employment potential of 977 have been received.


In a further boost to MSMEs, the State government has also unveiled a unique programme - One District One Product (ODOP) to protect and promote the local industries of the State.


Defence Industrial Corridor
Last year, the State successfully hosted, for the first time, the 11th National Defence Expo in Lucknow. The platform for alliances and joint ventures in the defence industry, inaugurated by Prime Minister Narendra Modi, also highlighted the emergence of Uttar Pradesh as major defence hub. The big defence event announced the arrival of UP – which boasts of one of the country's two defence industrial corridors (DICs) – as an attractive destination for investments by notching up investment intents worth Rs 50,000 crore. At the recently held Aero India, 2021 in Bengaluru, the UP DIC fetched 13 fresh investments intents worth Rs 4,500 crore.


The prestigious DIC in Bundelkhand region - passing through Agra, Aligarh, Chitrakoot, Jhansi, Kanpur and Lucknow - is planned over 5,000 hectares of land, out of which 1,369 hectares of land has been acquired in Jhansi, Chitrakoot and Aligarh. The defence node land in Aligarh has already been sold out and allotted to companies.


Ease of doing business
Incidentally, a few years ago, many big industries were eager to leave UP. But today, they are not only willing to stay back in the State but are also expanding their businesses. This has been possible because of the positive investment climate created by the Adityanath government, marked by effective EoDB. The State, which ranks at the second spot in EoDB ranking, implemented record 186 reforms spread across multiple areas such as labour regulation, inspection regulations, land allotment, property registration, environment clearances, paying taxes and many others.


One of the major reforms done by the government is implementation of one of India's largest, digital, single-window portal - Nivesh Mitra - providing around 204 services to entrepreneurs. With an average (no-objection certificate (NOC) application disposal rate of 93 per cent, the Nivesh Mitra portal has successfully achieved an outstanding query-resolution rate of 98 per cent.


Besides, a dedicated agency - Invest UP - has been recently established for facilitating and hand-holding investors. Invest UP has been mandated to carry out all activities of providing complete investment-lifecycle support to investors.


New focus
Post-COVID-19, UP has launched various new policies to attract investments under the current changed investment environment. Under the Post-COVID-19 Accelerated Investment Promotion Policy for Backward Regions 2020, the State is providing attractive incentives on a fast-track mode to new industrial units to create growth centres in the Poorvanchal, Madhyanchal and Bundelkhand regions of the State.
Similarly, a new Startup Policy 2020 has been launched to promote non-IT based start-ups. Besides these, Sick Industries Policy is also on the anvil. A Data Centre Policy has also been launched to attract investments worth Rs 20,000 crore and set up a data centre industry of 250-mw capacity.

Also, the eligibility limits of private industrial parks have been reduced in Bundelkhand and Poorvanchal, Pashchimanchal and Madhyanchal and for logistics parks across the State. Grant of industry status to logistics sector and amendment in zoning regulations have been done to apply industrial land use to logistics units qualifying for infrastructure status as granted by the government of India (GoI). Moreover, allotment of industrial development authorities' land at industrial rates to such logistic units has also been allowed.


Post-COVID-19 the State government has completely abolished Mandi tax for transactions outside Mandi yards, thereby extending big relief to food processing industry.


Opportunities galore
The State already has 20,000 acres of ready-to-move, industrial land bank. Further, the government has set a target of developing around 5,000 acres of land bank in FY21. The government has also identified around 22,000 acres along expressways for industrial development. Out of the identified land, six high-potential locations have been identified in Firozabad, Agra, Unnao, Chitrakoot, Mainpuri and Barabanki districts for establishment of industrial parks through various development models.
Similarly, 7 mega textile parks are being planned in the Union Budget 2020-21, of which UP has pitched in for two such parks in Kanpur and Gorakhpur. Besides, MSME park, electronics park, apparel park, handicraft park and toy park are under active implementation along the Yamuna expressway in Gautambuddha Nagar district. Similarly, integrated township is planned along proposed heritage city and logistics hub at Raya urban centre and Bajna urban centre, respectively.


The upcoming Jewar International Airport in Greater Noida spread over 5,000 hectares of land will be one of the largest airports in the Northern India. The airport will come up with a comprehensive MRO facility and cargo complex. An Aerotropolis is also likely to come up.


The State has recently announced a Film City of over 1,000 acres in sector 21 of Yamuna Expressway Industrial Development Authority (YEIDA) region along Yamuna expressway, located just about 6 km from the proposed Jewar International Airport.


Also, dedicated medical device park is proposed over 350 acres in YEIDA region, for which MoU has been signed with Kalam Institute of Health Technology for preparation of detailed project report. Meanwhile, UPSIDA is developing a 250 acres industrial area in Bareilly, out of which 100 acres will be developed as mega food park.