TRAVEL
Beyond Yoga and meditation, there is something for everyone visiting Rishikesh.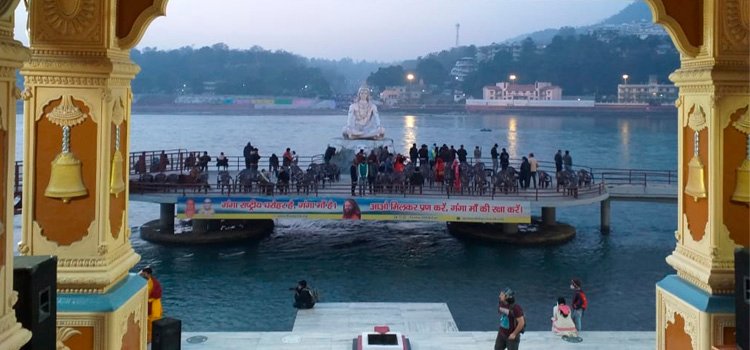 It is not often that one gets a chance to raft through the gushes of water; go flying fox; step into the most funky cafe; sit by the tranquil river; learn Yoga and meditation by humble masters; have the best roadside chai (tea); feed the fish; and 'not feed' the overbearing monkeys.


In Rishikesh, one can do all this and lots more. It is an ongoing affair with yourself when you don't have to prepare a presentation ahead of a board meeting or take a review of the project or worry about deadlines. No screen time, for a change, and that I call pure self-indulgence!


Rishikesh will never disappoint you; your companion may. So, choose your company wisely, and head to this enchanting destination. Shed the myth that it is meant only for spiritual-seekers. Or it is all about Yoga and meditation. There is something for everyone here. And then there is the ongoing Kumbh Mela – the month-long festival set to end on April 10 – in nearby Haridwar, about 20 km away.
Walk The City
Mild chaos of the traffic and fun go hand in hand in the buzzing streets of Rishikesh, close to the famous Laxman Jhula. Step into the cafes, and enjoy the quirkiness and the live gigs. Cafe Karma, Little Buddha Cafe and The 60's Cafe are quite popular. No fancy drawings on the Cappuccino froth, but Cappuccino will be outstanding.
Walk towards the legendary Beatles Ashram or The Chaurasi Kutiya as it has 84 huts, each reflecting of what it meant for when the Ashram was full of its famous inhabitants (The Beatles Group), who perhaps spent one of their most productive times here as musicians. Musical history abounds in every wall and rock here, and one can spend quite a few hours looking at the eye-catching, colourful graffiti.


Evening By The River
While the evening Arati at Parmarth Niketan Ashram is truly an experience one doesn't like to miss in Rishikesh, the sun too sets in full glory here. Live singing and chanting with music and the backdrop of the setting sun at the Ganga Ghat are truly enchanting to enthral any soul.
Safari To Rajaji National Park
Plan a safari to Rajaji Park, and you will get into the peaceful forest blessed with elephants, tigers, leopards and deer. Three sanctuaries in the Uttarakhand, Shivaliks – Rajaji, Motichur and Chila – were amalgamated into a large protected area and named Rajaji National Park in 1983 after the famous freedom fighter late Sri C Rajgopalachari, popularly known as Rajaji.


Visitors enjoy jeep and elephant safaris going through hilly terrains, forest tracks, river beds and unexplored sprawling grasslands. During the safari, one can spot rich wildlife, including Asian elephants, tiger, panther, chital, sambar, wild boar, python, monitor lizard, wild cats and, of course, many birds and species of different plants, shrubs and trees.


Rafting, Zipline
For adventure-seekers, there is enough to keep them happily engaged. There are several operators of both River Rafting and Zipline, which are done with all safety measures.

Dining
You can enjoy the usual snacks as the street food and, of course, there is the famous Choti Wala restaurant, but for a special meal, Varr restaurant at the Holywater Hotel by Ganga Kinare is strongly recommended. Here, you will get to taste the unique thali, comprising the dishes served as prasadam in various temples of India. The restaurant is one of its kind, offering the temple food of India, encompassing the entire country. What better place to relish the temple food than in holy city Rishikesh.

To Conclude...
Lace your sneakers, and walk around. This is exactly what I did. I watched kids giggle when I bought a basket of flowers from them or showed their angry faces if I didn't buy. As I return with a collage of my memories, I promise myself to make the next collage soon.
Travel Tips
• Go prepared with comfortable shoes, a hat, and always carry a bottle of water as you are about to get into some serious exploration trip.
• Tuk-Tuks are readily available, and bargaining is not required.
• Take frequent breaks to have roadside chai. If you are a tea person, you will simply love all the tea stalls. They are clean and make some wonderful masala tea. It is no high tea or low tea, it is simply fantastic tea.
• Do not miss the sunset by the river.
• If you planning to go trekking, do your homework well about the area, or take a guide with you.
• Shopping is pretty decent in Rishikesh. You could pick up some Ayurvedic oils and balms besides casual shirts and T-shirts.
• Rishikesh has all budget options to stay from very high end to very affordable. For a quiet sojourn, enjoy the private Ghat. Ganga Kinare – a riverside boutique hotel is ideal.