TRAVEL
TRAVELOGUE: A visit to juSTa Mukteshwar Retreat & Spa gets one renewed and enriched with simple pleasures of life.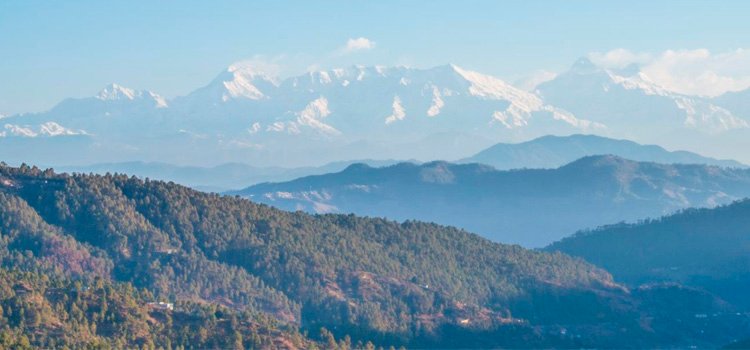 In today's tough times, it is no surprise that we are looking to take time off from the stresses of crazy lifestyle and unplug from webinars and screen time. In such a grim situation, wellness retreats have emerged as the top travel trend of 2021. They are enriching getaways as they can provide a much-welcome break to slow down, relax and make 'yourself' a priority.
I too got invited to one such wellness retreat, which led me to the foothills of the Himalayas to a bespoke wellness retreat – juSTa Mukteshwar Retreat & Spa – by Richa Khurana Singh, the founder of FreeWheelingLife. In spectacular surroundings, my escapade helped me in 'getting out' to 'look within'. Housed in the tiny village of Mukteshwar, Uttarakhand, juSTa boutique property is a perfect gem to rejuvenate and explore oneself.
We arrived in Mukteshwar around 4 pm after a comfortable nine-hour drive from Delhi. The roads are good, and the drive is picturesque after Rampur. So, if you have good company and good music in the car, there is no problem at all. Take a few tea breaks, and enjoy the drive.
As we stepped in at the luxury retreat, I was kind of lost and didn't know which Himalayan peak to spot first, as all around me, I was embraced by stunning mountain ranges. "Ma'am, have your welcome drink made of ginger and honey first," I heard. "We will show you the Himalayan peaks of Trishul, Panchchuli and Nanda Devi for sure."
Since my visit was to attend a wellness retreat, I was very keen not to miss any activity given in the itinerary. Taking the first evening easy, and meeting the fellow participants, I knew I was going to lose myself in the tranquillity of the place during my three-night stay.
Yoga At Dawn
With birds chirping, cool wind blowing and mesmerising hills all around in the pristine surroundings, Yoga was the best way to kickstart the beautiful day. Yoga sessions under the guidance of Ayurveda and Yoga expert Anuradha Gupta became an instant hit among all of us. Wake-up alarms seemed to be a forgotten story only of the habitants of the city. Here, we were hill dwellers and hill folks waking up naturally at the break of the dawn. So, there we were in the garden, all set to learn and show off our Yoga skills.
'Embrace Yourself', 'Love Yourself'
Our mind-body therapist, soft-spoken and very charming Ujjwal Batra, took us on a unique journey of 'self-healing' and 'finding one's own self' through myriad sessions every day. I must say that the experience was outstanding, every session being unique and rendering so much positivity and healing.
Sound bath ceremony in progress
He also conducted 'Sound Bath' ceremony every night (after dinner and games) through which he serenaded the guests to bathe in melodious sounds of music, allowing healing vibrations to flow through their mind, body and heart. His unique instruments, such as bells, gongs and singing bowls, created such beautiful, tranquil atmosphere that guests felt that they were drugged for a sound sleep.

Well, that was not enough. Mr Batra as a 'Shaman Healer' got everyone together in the 'Sacred Fire Ceremony' – an age-old tradition of 'Shamanic Healing'. The experience was truly one of its kind. For some of us, including me, the ceremony turned out to be a new passport for a renewed life!
Fun Evenings To Reboot, Re-Connect & Rejuvenate
Evenings were the best as we packed in so much laughter, cracking jokes, playing games and enacting our scripts. Our facilitator was a wonderful improvisational artist, coach and performer, Nasir Engineer, from Mumbai, who made sure to engage everyone in his stories, drama and acting. Mr Engineer divided us into two teams and then gave our lines to act and outshine the rival team. Well, in no time, the amphitheatre turned into a well of potential actors who would not leave any chance to get the winners' title. Those were the joyous nights under the clear-night sky of Mukteshwar.
Local, Curated Excursions
We used to look forward to our daily excursions in the neighbourhood. We were very keen to explore the place, and hence, trekking, walking in the villages, interacting with the locals and singing and posing with them in the gorgeous landscape became our lifeline. It was heartening to spend time with young boys who were happy to sing local songs for us. Our hosts in the village were very warm and made sure that we taste hot pakoras prepared by them. And yes, some chivalrous ones among us didn't mind having bhang pakoras too!
Culinary Delights
The menu for all the meals was crafted in such a way that we got flavour of the land while fulfilling healthy quotient based on Ayurveda. Our passionate wellness and Yoga expert, Anuradha Gupta, planned the menus full of local, seasonal food made through traditional methods of cooking. She made sure to make every meal exciting while focusing on the sustainability issues and respecting the local produce. All those who wanted to get a detailed consultation related to their dietary programme according to their body type based on Ayurveda were encouraged to do so by Ms Gupta.
From delicious, healthy meals, healing therapies, personalised counselling sessions, local excursions, picnic by the stream, bhang pakoras and tea at the village home, I got enriched with such simple pleasures of life that will continue to nourish my wellness journey until my next wellness escapade!
Travel Tips
• Visit Mukteshwar Dham where an ancient Lord Shiva Temple is located.
• For adventure enthusiasts, rappelling and rock climbing at Chauli Ki Jali is a must to do.
• For nature-seekers, gentle hiking and trekking trails amid fruit orchards and coniferous trees are not to be missed.
• Village walks are delightful and perfect for photographic memories.
• Carry sturdy walking shoes and hats.
• Stay at juSTa Mukteshwar Retreat & Spa, and enjoy the luxurious amenities, good food, a dip in the heated swimming pool, bespoke spa treatments and warm service.