MANAGEMENT MANTRA
"Don't Quit When The Chips Are Down": Arjun Sagar, Founder, Coco Leni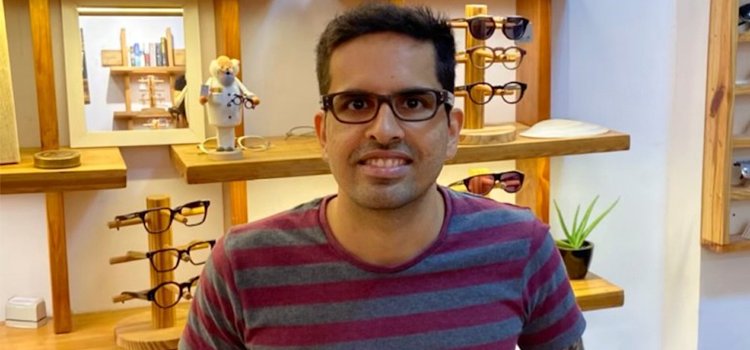 Arjun Sagar never compromises on quality. The founder of Coco Leni – a sustainable, bespoke, eyewear brand, based out of Panaji, Goa – believes that an unwavering focus on quality is the secret of any successful business. With over ten years of experience in coding and e-commerce eyewear business, Mr Sagar began his career with Matthias Haase, a skilled, German optometrist. Training under Mr Haase, Mr Sagar noticed that the German optometrist was using a perfect pair of eyeglasses for the last 20 years. The eyeglasses in question were made by an East German company. Realising the vital role played by German craftsmanship in manufacturing premium, durable eyewear, Mr Sagar teamed up with Mr Haase and set up Coco Leni in 2015.
Since then, Coco Leni has become synonymous with bespoke eyewear, characterised by superior design, quality and sustainability. The name of the eyewear brand comes from the word 'coco', derived from 'coconut' and 'leni', meaning 'bright and shining', explains Mr Sagar. In a nutshell, Coco Leni effectively seems to reflect a brand that radiates positivity and represents transparency.
True to its credo, Coco Leni has been churning out various kinds of made-to-measure eyewear, crafted from sustainable, ethically-sourced materials, like bamboo, bull horn and wood, to name a few. Speaking fondly about the brand, Mr Sagar adds: "Our idea has always been to fuse sustainability with style and offer customers eyewear that will last them for a long time. So, we design each frame to make it long-lasting, sustainable and easily reparable. And the results have been exceptional! The pinned hinges and time-honoured German craftsmanship techniques are added perks, ensuring a long-lasting design that is also comfortable."
In an engaging interview with Sharmila Chand, Mr Sagar also spells out his management theories, strategies and practices that have helped him to stay ahead in business.
Your five management mantras
Less, but better: Actively eliminate activities and efforts that don't make the highest-possible contribution. There has been an exponential increase in choices over the last decade. So, we have lost sight of the most important ones.
Being unavailable: We need space to escape in order to discern the essential few from the trivial many. We need space to concentrate, design and read.
The big picture: Put yourself in the shoes of all the main players in a story in order to better understand their motives, reasoning and points of view. Filter all the competing and conflicting facts, options and opinions, constantly vying for your attention.
Protect the asset: If we under-invest in ourselves – our minds, bodies and spirits – we damage the tool we need to make our highest contribution. One of the most common ways that people damage this asset is through a lack of sleep.
We will clarify the question: Evading hard questions is tempting. Often, it's easier to give a vague, blanket answer rather than summon up the facts and information required to give a thoughtful, informed answer. Yet, evasiveness only sends us down a nonessential spiral of further vagueness and misinformation. Clarifying the question is a way out of that cycle
A game that helps you in your career
Playing tennis teaches me a lot about myself – the depth of my inner strength, discipline, tenacity and the mastery of emotions. It boils down to how hard I am willing to work to better myself and win.
The turning point in your career life
When my daughter was born, there was a transformational wave of love, where I knew instantly that I would give my life to protect her and be my best for her. I made decisions more wisely after that.
Secret of your success
Don't suppress it, observe it! If you suppress it, there will be problems.
Your philosophy of work
Say "no" to everything except the essential.
Any particular person you admire who has inspired you
Mary Kom – after she became a parent, people thought that her career had ended. But she believed in her abilities and moved forward. Even early in her career, she had to face so many obstacles, including hunger and gender bias. However, all those never deterred her will power.
Best advice you got
You are responsible for your own happiness.
Your favourite book and the reason for choosing it
Start With Why by Simon Sinek; it all starts with WHY – if you cannot answer that, it is time to do something else.
Your fitness regime
For the body, I use a pull-up bar at home. During the pandemic, it is a simple and complete body exercise. Ten to 15 repetitions of five sets each. For the mind, I practise Vipassana meditation for at least 60 minutes a day.
Your five mantras for success in business
Build a strong brand: Strong brands stimulate desire. Build a compelling and valuable brand and work tirelessly to promote it and maintain its values.
Focus on quality, service and value, and don't concentrate on price: The customers you really want are the ones who focus on quality, service and long-term value. Make sure that your brand value supports your proposition.
Maximise income and minimise costs: Relentlessly keep out wasteful activities in all its forms, embrace a culture of continuous improvement, and involve everyone in its deployment.
Don't quit when the chips are down: It's about not quitting when the chips are down. You have to get comfortable in positions where the odds are against you. A huge aspect of winning in business is not despairing.
You must be hyper-aware of yourself: You must also be very conscious of your emotions and state of mind, and acknowledge what frustrates you and learn to control it in the moment. You're constantly analysing your weaknesses and strengths and adjusting your strategy.
What message on management would you like to convey to youngsters?
Be authentic. If you are your authentic self, you have no competition. If you want to be successful, your management must be grounded in self-awareness and reality. That means knowing and working with your strengths and your limits. When you lead from authenticity, you free yourself from the need for external approval. You can be who you are, not what others want to see.